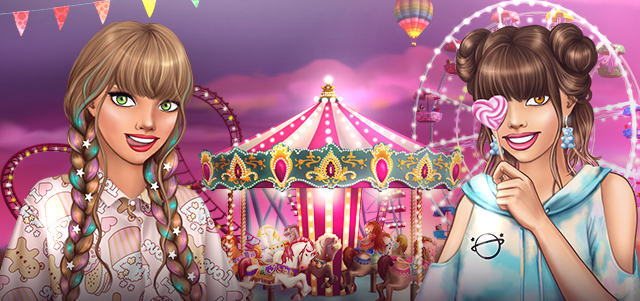 Hey gorgeous ladies!
Cute, adorable, lovable? Kawaii is so much more in Japaneese culture!It can be found in anime, fashion, art, music, lifestyle and Japan is Obsessed!
In this event you will find typical Kawaii outfits in bright colors with cute, little charchters on them, poses and amazing furniture items.

These clothes are perfect for a sunny day at the Amusement park, eating delicious ice-cream with friends!
How to play:
If you want to learn how to play this event check our YouTube video here: https://youtu.be/RcbAa2eY1Mk
Remember:
– You can collect cotton candy from 11.05.2020 – 24.05.2020;15:00 CET;
– You can purchase gifts from 11.05.2020 – 25.05.2020;15:00 CET;
– You can open your gifts from 18.05.2020- 25.05.2020; 15:00 CET;
There's an early bird discount for the gifts until 18.05.2020; 15:00 CET
If you can't wait, you can always open some gifts before 18.05.2020, but you have to spend some extra diamonds.
Hurry up and purchase as many gifts as you can so you could increase your chances for countless wonderful rewards!
For the period of the event, the level restriction for challenging opponents on the fashion arena will be +/- 10 levels.
The supermodels are now even more generous. Every time you win a duel against a supermodel, you will get 3 to 5 cotton candy.
This event will be available until 25.05.2020; 15:00 CET
Lady Popular Team
| | | | | |
| --- | --- | --- | --- | --- |
| Connect with us: | | | | Download our app now! |
| | | | | |